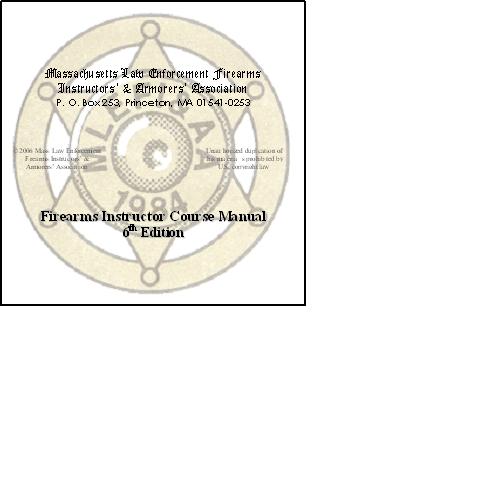 FIREARMS INSTRUCTORS' COURSE MANUAL

Compiled & Edited

by

Officer Joseph Picariello

Princeton (MA) Police Department

&

Officer Todd Bailey

Kingston (MA) Police Department

The 6th edition of the acclaimed Firearms Instructor's Course Manual published by the Massachusetts Law Enforcement Firearms Instructors' & Armorers' Association is now available.  Due to the increased size, the new edition will be available only in electronic format on CD. 

This Manual is intended for law enforcement firearms instructors who are actively engaged in live fire training for their respective agencies.  The electronic format permits instructors to store a large volume of information on their laptop or PC.  Featuring a revised format that is easier to read and updated graphics, this latest edition is a "must have" for any serious firearms trainer.

The Manual is subdivided into several sections covering:  handgun, shotgun, patrol rifle, precision rifle, and submachine gun.  A large section on Tactical & Training courses as well as sections on Dim Light & Night Firing, Forms and reprints of numerous training articles are included as well.

Instructors from agencies all over the country at local, state and federal levels have contributed to make the Firearms Instructor's Course Manual one of the most comprehensive training manuals available to the police firearms instructor today.

This manual includes qualification and training programs for law enforcement weapons ranging from snub nose back up revolvers to submachine guns.  Additionally it has ready to use forms covering Inventory, Medical Emergencies, Range Operations, Lesson Plans and more.

This manual will only be sold to law enforcement personnel.

Making its debut in 1997, the Manual has been continuously updated..  It is in use in all 50 states, one U.S. territory, and by numerous federal agencies including several within Homeland Security, U.S. Marshal Service, and the U.S. Army Special Forces.  Additionally, agencies from Australia, Canada, Sweden, New Zealand, Argentina, Belgium and Italy have purchased this Manual to augment their training programs.

Reviewed favorably in the print media, the latest review was in the May/June 2001 issue of "Police Marksman" magazine.

All courses contained in the Firearms Instructor's Course Manual are approved for qualification & training by the Massachusetts Municipal Police Training Committee.  The Education & Training Committee of the Massachusetts Sheriffs Association has approved this publication for use as a training tool by their instructors.

PRICE

MEMBERS:            $35.00*

NON-MEMBERS:  $40.00*

FREE Shipping & Handling

*Previous purchasers are entitled to a $5 discount



NOTE: Sales will be made to bonafide law enforcement personnel ONLY.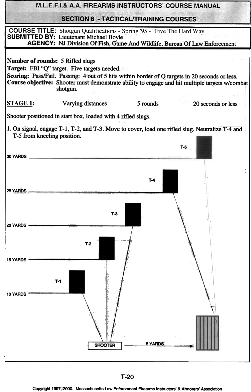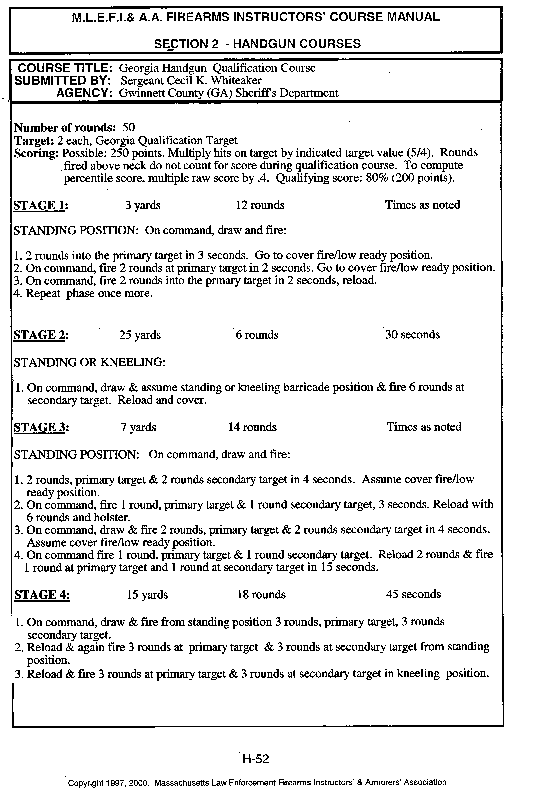 Due to size (over 900 pages), the MLEFIAA Firearms Instructor Course Manual is available only on CD.  Using Adobe PDF, instructors can easily store hundreds of courses, lesson plans and training ideas on their laptop computer. Containing all the information that the previous editions had, the new version has doubled in size and is ideal for those instructors who utilize the computer for their firearms training program.  The CD has all the software necessary to load Adobe Reader which you will use to view the courses of fire and other information on the disk. 

The 6th Edition is available now.  Contact MLEFIAA secretary Joe Picariello to purchase yours.

                          _______________________________________________________________________

Read what some of the manual's users have to say about the MLEFIAA Firearms Instructors Course Manual:

"I received your CD and...I am impressed with the content and effort that has gone into its creation.  I have been involved in law enforcement firearms training for over 10 years having worked in law enforcement for the past 25 years on two continents (USA and Australia).  Well done.  I have already passed the news on to the West Virginia State Police Academy trainers.

Roy McHiggins

Hampshire County Sheriff's Office, West Virginia

"I am writing from the U.S. Embassy in Zagreb, Croatia.  I'm the Regional Security Officer for this embassy and a Special Agent with the State Dept. Diplomatic Security Service.  Over the past 5 years the embassy has coordinated official training for Croatian police and security units from USMS, DHS, FBI, State Dept., DOJ and others.  One of these programs conducted not long ago was presented by the U.S. Marshalls for the Croatian Military Police.  The USMS used your Instructor Course Manual, 5th Edition, as the program guide.  The Croatian Military Police adopted much of the course material to standardize training."

W. Weller, RSO

US Embassy, Zagreb, Croatia

"I am impressed"

Dennis Carroll reviewing the Manual for ILEETA

"What a remarkable job on putting this together!  I have already placed it into our resource area and have directed staff to start using it.  I hope you and others realize what a valuable tool you are providing and how many officer's lives it may save."

Chief Jeffrey A. Beahen

Elk River Police Department (MN)

"Received the CD training manual, awesome job, far more than I expected."

Dave Strasz, Training Unit

Sterling Heights P.D.

"What a tremendous compilation!!!  First of all, I am glad it isn't titled "Firearms Courses of Fire" manual -- it is SO much more!  On top of all the other enhancements and new material (and the fact that it is now available on CD), the actual comprehensive and complete Lesson Plans are one heck of an addition!!"

"In my humble opinion, worth much more than the $40 price for non-members, the manual is already paying dividends on this end as I've found myself in a tremendous crunch to come up with a 5 shot revolver course of fire to accomodate the HR-218 retirees we have descending upon us.  Thanks to the Manual, I have ready access to more than just one to choose from and submit to our Training Commission/POST for their review and approval.  Ni-i-i-i-ice job, MLEFIAA!!!"

A/Lt Rolf Thorsen

Cmdr, Public Information & Community Relations Div.

Upper Marlboro, MD

"This manual could possibly be the most valuable training aid I have ever purchased.  It is a wealth of information.  Thank you for your time and effort in organizing it."

Tom Heller

Stoneham (MA) P.D.